The lands once ridden by formidable armies is now traversed by the world's unique luxury train.The Golden Chariotbeckons you to discover worlds that are enriched with history and culture. Recline and relax as the magnificent scenery unfolds outside your window with luxury on the inside, thus far reserved for royalty. We present the Golden Chariot - a fine balance between a glorious yesterday and on omnipresent tomorrow in a magical land... Karnataka, Goa, Tamil Nadu, Kerala and Puducherry on the following itineraries.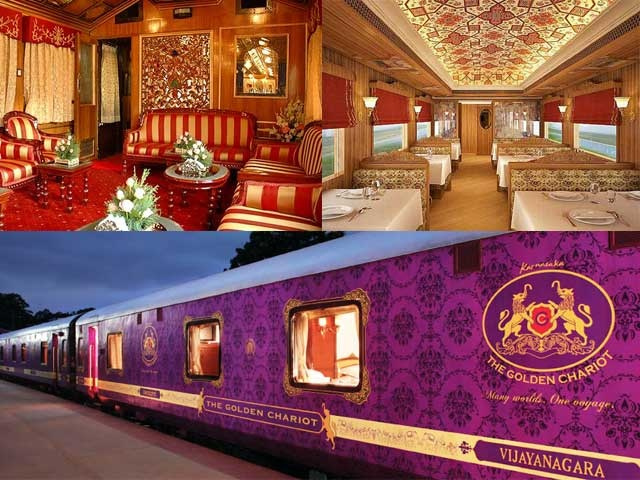 Itinerary I
Bangalore, Mysore, Hassan, Hospet, Badami, Goa, Bangalore.
Itinerary II
Bangalore, Chennai, Puducherry, Tanjavur, Madurai, Nagercoil, Trivandrum, Ernakulam, Bangalore.
The on board facilities
Designed & operated on the lines of World famous Palace On wheels Train Tour; The Golden Chariot(Golden Chariot Train)/Southern Splendour Train offers Eleven luxuriously furnished Air-Conditioned Saloons of 4 sleeping chambers(Cabins) each,Two Dining Cars,One Bar Lounge ,Business Centre, Mini Gymnasium & Ayurvedic Spa.
Passenger Saloons :

The Interiors of the Saloon are inspired by the intricately carved Hosalya temple architecture dating back to 12th century.

Total 44 Air Conditioned cabins in 11 inter-connected saloons are combination of 26 Twin Bedded Cabins,17 Double bedded Cabins & One Cabin for Physically Challenged.

Each Cabin offers small wardrobe,vanity desk,LCD Televisions,Electric sockets with 220 AC for recharging batteries; & private washroom having 5 Star Hotel accessories.

Restaurant Coaches :

The interiors of the Two Dining Cars (called Nala & Ruchi) are inspired by the royal aesthetics of Hampi & Halebid temples. There is a wide spread of vegetarian and non-vegetarian culinary delights available.

Lounge Bar Coach :

The plush & royal interiors of the Cigar Bar Lounge (called Madira) are modelled after the early 20th century Mysore Palace.

Spa & Gym Facility :

There are Two massage rooms ,for the traditional & age old Ayurvedic massages,said to offer definite cures for modern day fatigue & stress. Also available is a fully equipped Gymnasium.
For further information and booking please visit:
Website: http://goldenchariottrain.com/