The Indian Railways launched India's first indigenous Semi High Speed train, Vande Bharat Express. The first Vande Bharat Express train was flagged off on February 15, 2019, on the New Delhi-Kanpur-Allahabad-Varanasi route.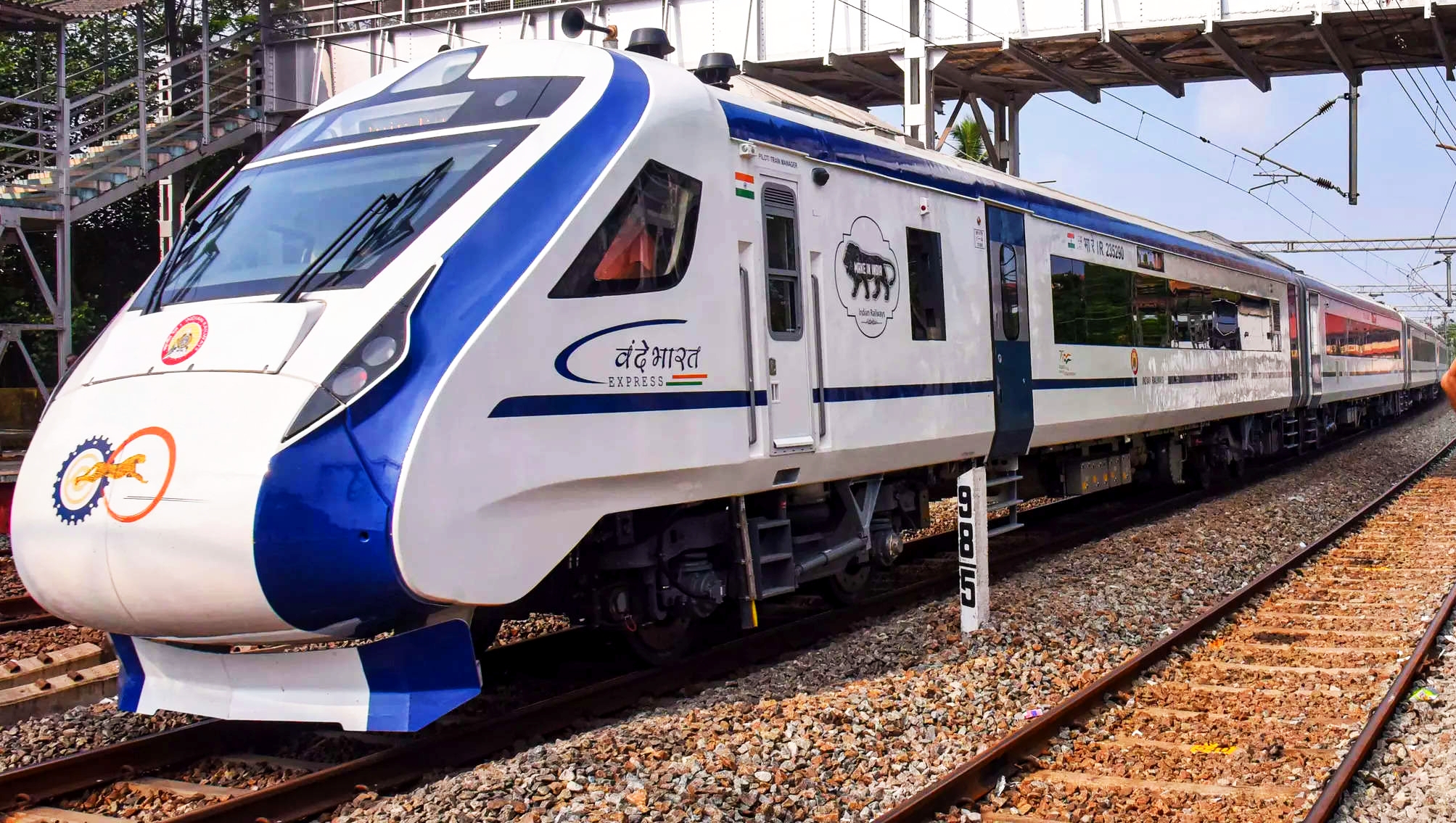 Important Facts About Vande Bharat Express!
The major systems of the train have been designed and built in India. Impact of this train, matching global standards of performance, safety and passenger comfort and yet costing less than half of global prices, has the potential to be a game changer in the global rail business.
This train is India's first semi high speed train equipped with world class passenger amenities. It can achieve high speeds due to faster acceleration & deceleration and will reduce journey time by 25% to 45%. Scheduled commute between New Delhi & Varanasi will take approximately eight hours making it 40-50% faster than the fastest train currently connecting these two cities. Till now, 7 Vande Bharat Trains have covered the cumulative distance of 23 lakh kilometres, equivalent to 58 rounds of earth. More than 40 lakh passengers have travelled in Vande Bharat trains so far.
The Vande Bharat Express can run up to a maximum speed of 160 kmph and has travel classes like Shatabdi Train but with better facilities. It aims to provide a totally new travel experience to passengers.
Speed, Safety and Service are the hallmarks of this train. Integral Coach Factory (ICF), Chennai, a Railways Production unit, has been the force behind a completely inhouse design and manufacture, computer modelling and working with a large number of suppliers for system integration in just 18 months
The First Vande Bharat Train covered the distance between New Delhi and Varanasi in 8 hours and runs on all days except Mondays and Thursdays.
All coaches are equipped with automatic doors, GPS based audio-visual passenger information system, on-board hotspot Wi-Fi for entertainment purposes, and very comfortable seating.
All toilets are bio-vacuum type. The lighting is dual mode, viz. diffused for general illumination and personal for every seat. Every coach has a pantry with facility to serve hot meals, hot and cold beverages. The insulation is meant to keep heat and noise to very low levels for additional passenger comfort.
Vande Bharat Express has 16 air-conditioned coaches of which 2 are executive class coaches. The total seating capacity is 1,128 passengers. It is much more than the conventional Shatabdi rake of equal number of coaches, thanks to shifting of all electric equipment below the coaches and seats in the driving coach also.
Adding up the green footprints, the train has regenerative braking system in the Vande Bharat Express coaches which can save up to 30% of electrical energy.
Vande Bharat Express Trains are running on the following Routes:
List of Semi High Speed Vande Bharat Express Train.
New Delhi – Varanasi, Uttar Pradesh.
New Delhi – Shri Vaishno Devi Mata, Katra.
Gandhinagar – Ahmedabad - Mumbai Central.
Amb Andaura – New Delhi.
Mysuru – Puratchi Thalaivar Dr MGR Chennai Central.
Nagpur, Maharashtra – Bilaspur, Chhattisgarh.
Howrah – New Jalpaiguri, West Bengal.
Secunderabad, Telangana – Visakhapatnam, Andhra Pradesh.
Rani Kamalapati - Jabalpur Vande Bharat Express.
Rani Kamalapati - Indore Vande Bharat Express
Goa (Madgaon) - Mumbai Vande Bharat Express.
Ranchi - Patna Vande Bharat Express.
Dharwad - Bengaluru Vande Bharat Express
Gorakhpur - Lucknow Vande Bharat Express
Jodhpur - Ahmedabad (Sabarmati) Vande Bharat Express
Puri - Howrah Vande Bharat Express
Anand Vihar, Delhi – Dehradun Vande Bharat Express