Ministry of Railways had announced in Rail Budget 2016-17 introduction of new type of trains calledHumsafar Express. Humsafar train is a fully Air Conditioned 3 AC service having facility GPS based Passenger Information System, Passenger announcement System, fire and smoke detection and suppression system, CCTVs, comfortable seats, mobile and laptop charging points, integrated Braille display, LCD display above compartment doors in the aisle, Fire retardant curtains, etc..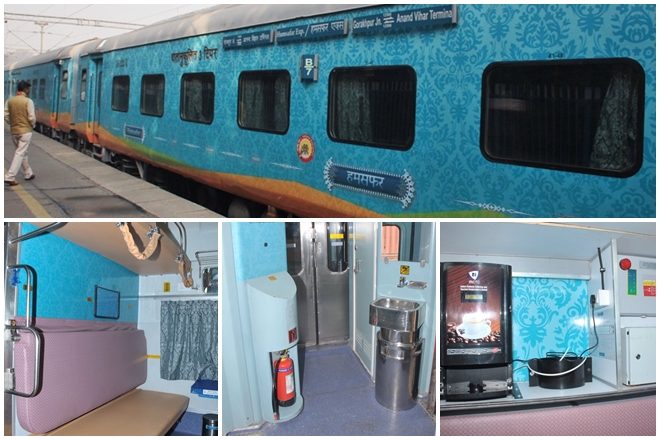 Here is the list of all the features that the new edition of Humsafar Express will offer its passengers:
Keeping in mind the long standing complaint regarding side lower berth by the passengers, a detachable board has been introduced by IR which can be placed on top after joining the two side seats. The move has been put to effect with the consideration that the passengers do not go through the ordeal of backaches.
Remember the weird blue upholstery that our trains had, or still have? The new trains will have refurbished interiors that are on the lighter side. The curtains in the trains are fire resistant as well.
Fretting about charging your smartphones? For the first time in AC-3 tier compartments, you will find USB charging points next to the berths.
Great news for those who can't travel without a book! Each berth in the compartment has been equipped with reading materials.
Many can relate to the dread of climbing to the upper berth! Making the upper berth climbing arrangement more comfortable, IR has also added a handle on the top berth that will assist passengers while climbing.
Making train travel more family-friendly, baby seats have been included in the toilets. This will prove convenient for families travelling with babies and toddlers and make it easier for changing diapers..
In another first, a sensor-based men's urinal based on an NID design has been added in the trains. These toilets have a two-step floor to contain flow of water near the basin.
An interesting feature is the colourful anti-graffiti exteriors, which will be accompanied by reflective destination boards that glow in the night as well as reflective 3D numbering.
Following suit from the earlier version, each cabin has dustbins, comfortable seats, mobile charging points, a mirror and luggage racks.
Vinyl coating has been added to the flooring that will make it easier for cleaning the trains' floors.
Like the previous version, the trains will have toilet occupancy indicators and GPS-based information system that will help catering the passengers better.
The central aisle has LED-lighting that also displays the seat numbers.
The Humsafar Express has been facilitated with vending machines that will offer tea, coffee and soup.
The trains also have the CCTV footage display system along with extensive fire/smoke detection and suppression system.