Allahabad Junction Railway Station (ALD)
इलाहाबाद जंक्शन रेलवे स्टेशन
Allahabad Junction railway station on the Howrah-Delhi main line and Howrah-Allahabad-Mumbai line Station Code Is (ALD).It is the headquarters of the North Central Railway Zone. It is located in Allahabad district in the Indian state of Uttar Pradesh. It serves Allahabad and the surrounding areas. Many important trains pass through this station. All trains from the east going to southward pass through this station.
The East Indian Railway Company initiated efforts to develop a railway line from Howrah to Delhi in the mid nineteenth century. Even when the line to Mughalsarai was being constructed and only the lines near Howrah were put in operation, the first train ran from Allahabad to Kanpur in 1859. For the first through train from Howrah to Delhi in 1864, coaches were ferried on boats across the Yamuna at Allahabad. With the completion of the Old Naini Bridge across the Yamuna through trains started running in 1865-66.
The opening of the Curzon Bridge, across the Ganges, in 1902, linked Allahabad to regions north of or beyond the Ganges.
The Varanasi-Allahabad City (Rambagh) line was constructed as a metre gauge line by the Bengal and North Western Railway between 1899 and 1913. It was converted to broad gauge in 1993-94.
Allahabad Junction Railway Station Address : Civil Lines Bus Stand, MG Marg, Madhopur, Allahabad, Uttar Pradesh 211001
Allahabad Junction Railway Station Email ID : ccm@ncr.railnet.gov.in
Allahabad Junction Railway Station Helpline Numbers : 0532-2408149, 0532-2408128, 0532-2230792
Security & Medical : 0532-6455463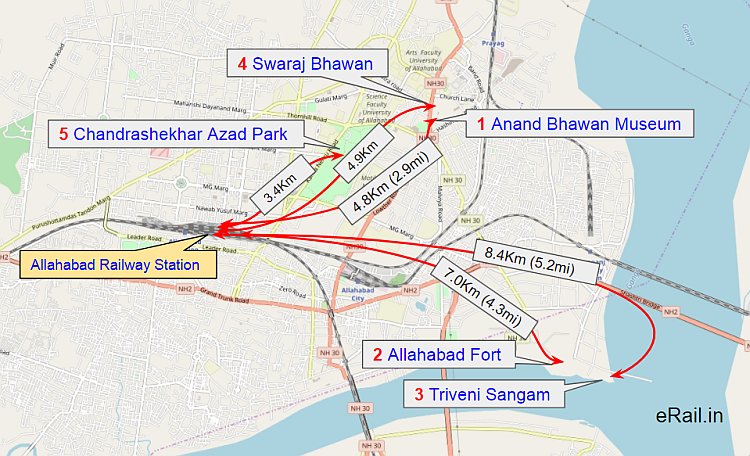 Best Place to Visit Near Allahabad Junction Railway Station
Anand Bhawan Museum : 4.8 from Allahabad Rly Station
Allahabad Fort : 7.0 km from Allahabad Rly Station
Triveni Sangam : 8.4 km from Allahabad Rly Station
Swaraj Bhavan : 4.9 km from Allahabad Rly Station
Chandrashekhar Azad Park : 3.4 km from Allahabad Rly Station
Allahabad Junction Railway Station to Sangam Ghat
Located about 7 Km from the Civil Lines Township in Allahabad is the holy site of Sangam where Kumbh Mela is held. It is at Sangam, a Sanskrit word for Confluence, where the union of three of the holiest rivers according to the Hindu Mythology - Ganges, Yamuna, and Saraswati takes place. While the brownish Ganges meets the Greenish Yamuna, both of which have an earthly origin in the Himalayan mountain range, Saraswati on the other hand has no physical form and is believed to exist ethereally, without being visible to the human eye. Mentioned in the sacred texts many times over, it is in Prayaga (ancient name for Allahabad) that Saraswati is believed to meet with Ganga and Yamuna. It is also believed to flow beneath the surface by few. The place is also known as Triveni Sangam because of the amalgamation of three rivers, and the combined sacredness of the three rivers coupled with the mythological legend, according to which a few drops of nectar that turns mortal to immortal had fallen here, has made Allahabad the Tirthraja or, The King of Holy Places. This is precisely why Kumbh Mela organized in Allahabad is of a different level and attracts millions of devotees to the shores.
However, Sangam adorns an altogether different look when Kumbh Mela pays it a visit. All the pleasures of a comfortable life are shunned for the time by millions of devotees - young and old, and the troubled & blessed; coming together to take a bath at the very confluence for purgative effects. It is believed that a bath at the confluence of these three rivers increases the bather's purification by hundred times. Whereas during the period of Kumbh Mela (special dates assigned for spiritual bathing), it is believed that it is a thousand times stronger an influence. Apart from self-purification purposes, thousands of people also flock to the shores during Kumbh Mela to offer pind for their deceased parents. It is not only the devout that makes the Ghats of Sangam their temporary home, but the event is also an opportunity for the foreigners who are consistently fascinated by Hindu mythologies and culture, to witness the same in the grandest of fashions. And seeing endless millions, pilgrims and audience, gathered as far as the eyes can see, on the Ghats is an indescribable feeling! It happens only at Sangam!
| | |
| --- | --- |
| Platforms | 10+ |
| Parking | Yes |
| WiFi | Yes |
| Public Transport | Yes, 24hr. |
| Retiring/ Dormitory Rooms | Click Here, (How to book) |
| Cloak Room | Yes |
| Restaurants | Yes |
Distance Between Lucknow Airport and Allahabad Junction Railway Station is 116 kms or 72.1 miles.
Distance Between Civil Lines Bus Stand and Allahabad Railway Station is 2 kms or 1.2 miles.
Prepaid Taxi and autorickshaws are available to anywhere from Outside of Allahabad Junction Railway Station.
Hotels Near Allahabad Junction Railway Station
Hotel Kanha Shyam : 3.3 km from Allahabad Rly Station
The Legend Hotel : 4.2 km from Allahabad Rly Station
Hotel Ravisha Continental : 3.8 km from Allahabad Rly Station
Hotel Milan Palace : 3.2 km from Allahabad Rly Station
Clarks Inn Ajay International : 3.1 km from Allahabad Rly Station
Suggested Itinerary from Delhi to Allahabad
Travel from Delhi to Allahabad 702 Kms (436 miles) 9 to 11 hours Journey.
Places to Visit : Anand Bhawan Museum, Allahabad Fort, Triveni Sangam, Swaraj Bhavan, Chandrashekhar Azad Park.
Best Trains from Delhi to Allahabad
Tatkal booking for 3AC/CC opens at 10AM and for SL opens at 11AM
Day1
After arriving in Allahabad railway station take taxi for hotel, if hotel not booked take auto-rickshaw for hotels.
Hotel Prayag
Hotel U.R.
Milan Hotel
Sightseeing
Triveni Sangam
Allahabad Fort
Anand Bhawan Museum
Triveni Sangam
This is the particularly auspicious point where two of India's holiest rivers, the Ganges and the Yamuna, meet one of Hinduism's mythical rivers, the Saraswati. All year round, Pilgrims row boats out to this holy spot, but their numbers increase dramatically during the annual Magh Mela, a six-week festival held between January and March, Which culminates in six communal 'holy dips'.
Every 12 years the massive Kumbh Mela takes place here, attracting millions of people, while the Ardh Mela (Half Mela) is held here every six years.
Allahabad Fort
Allahabad Fort is a fort built by the Mughal emperor Akbar at Allahabad, Uttar Pradesh, India in 1583. The fort stands on the banks of the Yamuna near its confluence with the river Ganges. It is recognised by the Archaeological Survey of India as a monument of national importance.
Timing : Sunrise to Sunset
Ticket Price : No entry fee (Entry by Donation)
Anand Bhawan Museum
The Anand Bhavan is a historic house museum in Allahabad, India focusing on the Nehru Family. It was constructed by Indian political leader Motilal Nehru in the 1930s to serve as the residence of the Nehru family when the original mansion Swaraj Bhavan (previously called Anand Bhavan) was transformed into the local headquarters of the Indian National Congress.
Timing : 09:30 am to 05:00 pm.
Ticket Price : ₹ 10/- for Indian, ₹ 100/- for Foreigners
Local Transport
Auto Rickshaw availabe 24*7 outside from the Station & Hotels.
Taxis can be hired from any travel agent and is one of the most comfortable options to move around in the city without any hassles.
Ola cabs Transportaion : For Fare details click here
Shopping : The famous shopping malls in the city are
Vinayak City Centre
P Square Mall
Atlantis Mall
In the evening enjoy shopping & Back to hotel.
Day2
After Breakfast Start your sightseeing for Swaraj Bhavan & Chandrashekhar Azad Park.
Swaraj Bhavan (Ticket Price : ₹ 5/- for Indian, ₹ 50/- for Foreigners, 09:30 am to 05:00 pm.)
Chandrashekhar Azad Park (Indian ₹100/foreigner ₹500, all days, 8am-5:30pm)
Full day enjoyment & transfer to Railway Station for your home destination.
Tatkal booking for 3AC/CC opens at 10AM and for SL opens at 11AM