Bhopal Junction Railway Station (BPL)
भोपाल जंक्शन रेलवे स्टेशन
Bhopal Junction railway station (Station Code: BPL) is a major railway junction of India and main railway station of Bhopal, the capital of the central Indian state of Madhya Pradesh. This station also serves as a connecting point for various pilgrims from Nepal, China, Thailand, Malaysia, Japan and Myanmar to visit the Stupa of Sanchi, an important Buddhist stupa, which is about 40 kilometres (25 mi) from this station.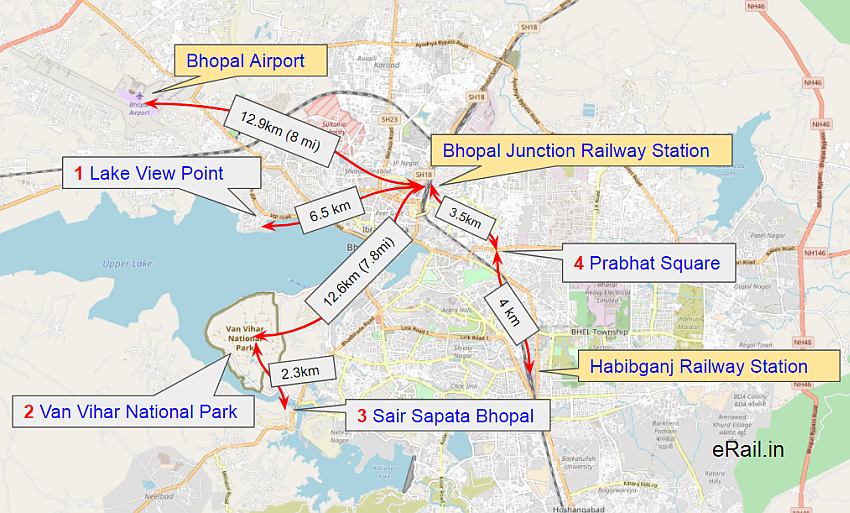 Best Place to Visit Near Bhopal Railway Station
Lake View Point: 6.5 km (4 mi) from Bhopal Rly Station
Van Vihar National Park 12.6 km (7.8 mi) from Bhopal Rly Station
Sair Sapata Bhopal: 10.3 km from Bhopal Rly Station
Prabhat Square: 3.5 km (2.2 mi) from Bhopal Rly Station
| | |
| --- | --- |
| Platforms | 6 |
| Parking | Yes |
| Taxi | Yes |
| Wheel Chair | Yes |
| WiFi | Yes |
| Restaurants | Yes |
| Retiring/ Dormitory Rooms | Click here, (How to book) |
| Cloak Room | Yes |
The airport is 11.km northwest of central Bhopal - at least Rs.200 by autorickshaw or around Rs.500 by taxi Minibuses and buses (both rs.10) shuttle between New Market and Hamidia Rd all day and all evening. Catch ones to New Market at the eastern end of Hamidia Rd. Returning from New Market, They Leave from near the Nehru Statue. Autorickshaws cost about Rs.60 for the same journey.
Distance between bhopal junction railway station and Airport is 12.9 kms or 8 miles It takes 34 minutes to travel from Bhopal Junction Railway Station to Raja Bhoj Airport
Distance between bhopal junction railway station and Bus Stand is 6.9 kms or 4.3 miles It takes 27 minutes to travel from Bhopal Junction Railway Station to Karond Square Bus Stop
Prepaid Taxi and Autorickshaws are available to Anywhere from outside of Bhopal Junction Railway Station
Hotel Near Bhopal Railway Station
Jehan Numa Palace Hotel: 7.0 km from Bhopal Rly Station
Hotel Alankar Palace: 7.7 km from Bhopal Rly Station
Hotel Amer Greens: 17.9 km from Bhopal Rly Station
The Bhopal Grande: 7.2 km from Bhopal Rly Station