Vapi Railway Station (VAPI)
वापी रेलवे स्टेशन
Vapi railway station (Station code is VAPI) is a railway station on the Western Railway network in the state of Gujarat.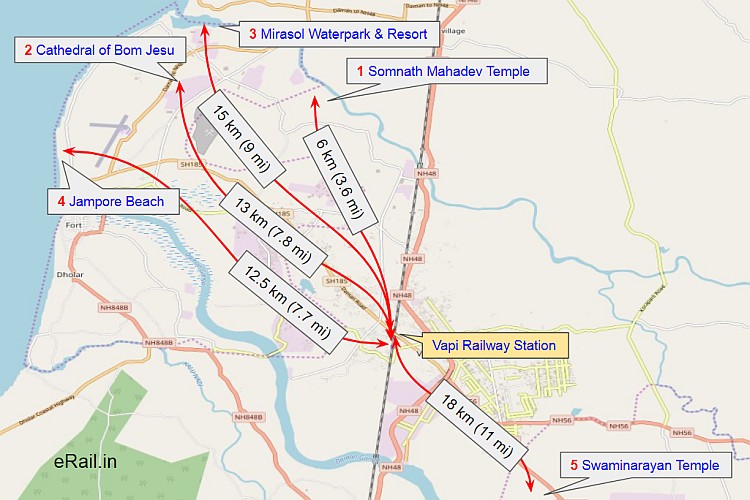 Best Place to Visit Near Vapi Railway Station
Swaminarayan Temple : 17.7 km from Vapi Rly Station
Mirasol Waterpark & Resort : 15.2 km from Vapi Rly Station
Jampore Beach : 12.5 km from Vapi Rly Station
Cathedral of Bom Jesu : 13.2 km from Vapi Rly Station
Somnath Mahadev Temple : 6.1 km from Vapi Rly Station
| | |
| --- | --- |
| Platforms | 03 |
| Parking | Yes |
| WiFi | No |
| Public Transport | Yes |
| Retiring/ Dormitory Rooms | Click here, (How to book) |
| Cloak Room | Yes |
| Restaurants | No |
The nearest Domestic Airport is Surat Airport, roughly two and half hour drive from Vapi. It is well connected to a spectrum of cities in the country like Delhi, Mumbai, Amritsar, Chandigarh, Srinagar, Calicut, Mangalore, Ahmedabad and Bhavnagar via Indigo, Deccan Aviation, Air India and Spice Jet etc.
Distance between Surat Airport and Vapi Railway Station is 120 kms or 74.6 miles. It takes 2 hours, 24 minutes to travel from Surat Airport to Vapi Railway Station.
Distance between Vapi Railway Station and Vapi Bus Stop is 1 kms or 0.6 miles. It takes 1 minutes to travel from Vapi Railway Station to Vapi Bus Stop.
Auto rickshaw stand at the entrance of the station. Entrance of the station the passengers are provided with a taxi stand for the city taxis and private taxi cabs.
Location: Geeta Nagar Road, Geeta Nagar, Vapi, Gujarat - 396191
Hotels Near Vapi Railway Station
Silver Leaf Hotel : 2.3 km from Vapi Rly Station
Ginger Hotel : 6 km from Vapi Rly Station
Mango Leaf Resort : 19.9 km from Vapi Rly Station
Hotel Royal Shelter : 1.3 km from Vapi Rly Station
Hotel Apex Inn : 2.0 km from Vapi Rly Station