Katihar Junction Railway Station (JTJ)
कटिहार जंक्शन रेलवे स्टेशन
Katihar Junction railway station serves Katihar city in Katihar district in the Indian state of Bihar. The Katihar Junction railway station is connected to most of the major cities in India by the railway network.
Katihar lies in between Barauni-Katihar section of Barauni-Guwahati line Katihar-Siliguri line which serves the city with numerous number of trains to Guwahati, Kolkata, Delhi, Dalkhola and with many other cities.
East Indian Railway Company (EIR) opened the Manihari-Katihar-Kasba section in 1888 and the North Bengal Railway opened the Katihar-Raiganj section the same year. EIR opnened the Barsoi-Kishanganj section in 1889. All these lines were 1,000 mm (3 ft 3 3⁄8 in) wide metre gauge lines. Darjeeling Himalayan Railway, operating 2 ft (610 mm) narrow gauge lines, extended their operations from Siliguri to Kishanganj in 1915 and to Dalkhola.
Siliguri was connected to Kolkata via the eastern part of Bengal since 1878 (for details see Howrah-New Jalpaiguri Line). However, with the partition of India in 1947, railway services in the region were completely disrupted. In 1949, the narrow gauge Siliguri-Kishanganj section was upgraded to metre gauge. Thus there was a direct metre gauge connection from Manihari to Siliguri via Katihar. The importance of Katihar station grew because of the jute mill in the region.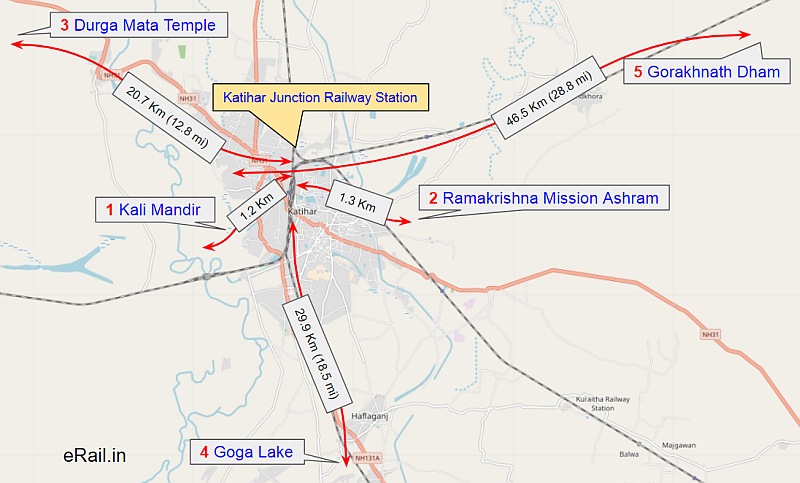 Best Place to Visit Near Katihar Junction Railway Station
Kali Mandir : 1.2 km from Katihar Junction Rly Station
Ramakrishna Mission Ashram : 1.3 from Katihar Junction Rly Station
DURGA MATA TEMPLE : 20.7 km from Katihar Junction Rly Station
Goga Lake : 29.9 km from Katihar Junction Rly Station
Gorakhnath Dham : 46.5 km from Katihar Junction Rly Station
| | |
| --- | --- |
| Platforms | 7 |
| Parking | Yes |
| WiFi | Coming Soon |
| Public Transport | Yes |
| Retiring/ Dormitory Rooms | Click Here, (How to book) |
| Cloak Room | Yes |
| Restaurants | Yes |
Katihar is well connected with other parts of India by important modes of transportation like air, road and rail. Nearest commercial airport to Katihar is Bagdogra, which is located at a distance of 160 km.
Distance between Katihar Railway Station and Katihar Bus Stand is 1 kms or 0.6 miles .
Prepaid Taxi and autorickshaws are available to anywhere from both sides of Katihar Junction Railway Station.
Hotels Near Katihar Junction Railway Station
Hotel RajNirmal : 1.2 km from Katihar Rly Station
Hotel Deluxe : 800 m from Katihar Rly Station
Hotel Satkar : 1.0 km from Katihar Rly Station
Hotel Rajasthan : 600 m from Katihar Rly Station
Hotel Satkar : 1.0 km from Katihar Rly Station