Vadodara Junction Railway Station (BRC)
वड़ोदरा जंक्शन रेलवे स्टेशन
Vadodara Junction railway station (Station code is BRC) is the main station in the Indian city of Vadodara, Gujarat. It is the ninth busiest railway station in India in terms of frequency of trains after Kanpur Central, Vijayawada Junction, Delhi Junction, New Delhi, Ambala Cant, Howrah, Patna Junction and Asansol Junction and busiest in Gujarat state and as well as a major stop on the western railway zone of Indian railways. Around 170 trains starts, ends, or passes through the station daily.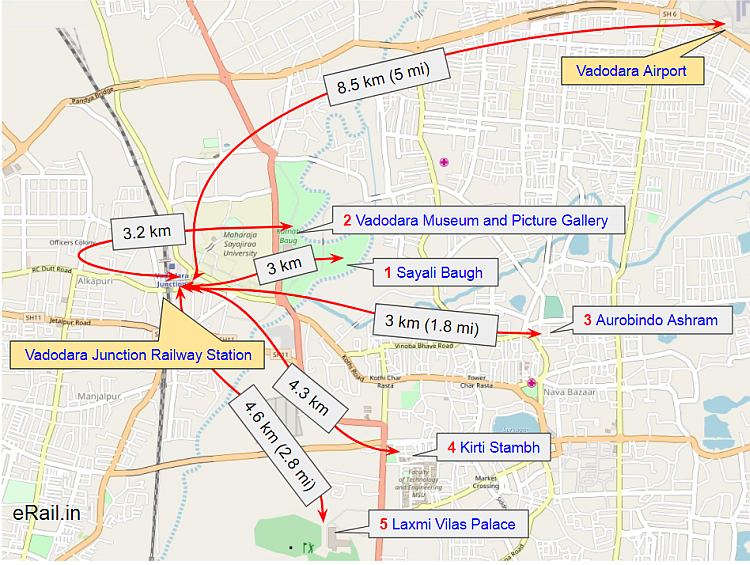 Best Place to Visit Near Vadodara Railway Station
Laxmi Vilas Palace : 4.6 km from Vadodara Rly Station
Sayaji Baug : 3 km from Vadodara Rly Station
Aurobindo Ashram : 3 km from Vadodara Rly Station
Kirti Stambh : 4.3 km from Vadodara Rly Station
Vadodara Museum and Picture Gallery : 3.2 km from Vadodara Rly Station
| | |
| --- | --- |
| Platforms | 07 |
| Parking | Yes |
| WiFi | Yes |
| Public Transport | Yes |
| Retiring/ Dormitory Rooms | Click here, (How to book) |
| Cloak Room | Yes |
| Restaurants | Yes |
Distance between Vadodara Railway Station and Vadodara Airport is 8.5 kms or 5 miles. It takes 10 minutes to travel from Vadodara Railway Station to Vadodara Airport.
Distance between Baroda State Bus Stand and Vadodara Railway Station is 1 kms or 0.6 miles. It takes 1 minutes to travel from Baroda State Bus Stand to Vadodara Railway Station.
Auto rickshaw stand at the entrance of the station. Entrance of the station the passengers are provided with a taxi stand for the city taxis and private taxi cabs.
Location: Sayajiganj, Vadodara, Gujarat - 390020
Hotels Near Vadodara Railway Station
The Taj Gateway Hotel : 12.8 km from Vadodara Rly Station
Welcom Hotel : 14.3 km from Vadodara Rly Station
Royal Orchid Central : 12.1 km from Vadodara Rly Station
Hotel President : 15.0 km from Vadodara Rly Station
Lemon Tree Hotel Vadodara : 14.6 km from Vadodara Rly Station