Jabalpur Junction Railway Station (JBP)
जबलपुर जंक्शन रेलवे स्टेशन
Jabalpur Junction Railway Station (Station Code : JBP), is an important railway junction station of Jabalpur City in Madhya Pradesh. It is the headquarters of West Central Railway.
The station is sometimes called the Jabalpur main station. Jabalpur serves as the headquarters of the West Central Railway zone and is one of the busiest railway stations in Madhya Pradesh. Jabalpur being the third largest city of Madhya Pradesh and with no suburban railway system caused the British to build 10 different railway stations across the city to manage the railway traffic and passengers across the city.
Jabalpur Railway Station Enquiry Number 131-23366177, 23348787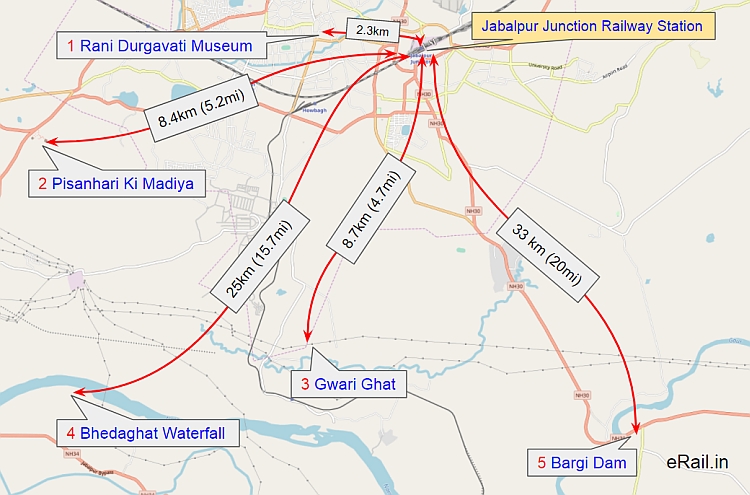 Best Place to Visit Near Jabalpur Railway Station
Rani Durgavati Museum 2.3 km From Jabalpur Rly Station
Pisanhari Ki Madiya 8.4 km From Jabalpur Rly Station
Gwari Ghat 8.7 km From Jabalpur Rly Station
Bhedaghat Water Fall 25.3 km From Jabalpur Rly Station
Bargi Dam 33.4 km From Jabalpur Rly Station
Distance between Jabalpur Junction Railway Station and Airport is 14.3 kms or 8.9 miles It takes 27 minutes to travel from Jabalpur Junction Railway Station to Jabalpur Airport
Distance between Jabalpur Junction Railway Station and Bus Stand is 1.4 kms or 0.9 miles It takes 6 minutes to travel from Jabalpur Junction Railway Station to Jabalpur bus stand
Taxi and Autorickshaws are available to Anywhere from both sides of Jabalpur Junction Railway Station
Hotel Near Jabalpur Railway Station
| | |
| --- | --- |
| Hotel Rishi Regency | 1.1 km |
| Hotel Vijan Palace | 2.0 km |
| Hotel Samdariya inn | 2.1 km |
| Hotel Cozy Residency | 2.2 km |