Tirupati Railway Station (TPTY)
तिरुपति रेलवे स्टेशन
Tirupati Railway Station (station code is TPTY) railway station, located in the India state of Andhra Pradesh, serves Tirupati and the regular flow of large number of pilgrims visiting Tirumala Venkateswara Temple in Chittoor district. A metre gauge line of South Indian Railway Company, opened in 1891, started from Villupuram in South Arcot district and passed through Katpadi and Chittoor to Pakala. The Katpadi-Gudur line, covering Tirupati, has since been converted to broad gauge.
Tirupati Railway Station has 5 Platforms and each can handle a train with more than 24 Coaches . Escelators are available at each and every platform . Tirupati Railway Station handle daily more than 45 Pairs of Passenger Trains.
Address of Tirupati Railway Station : Tata Nagar, Tirupati, Andhra Pradesh - 517501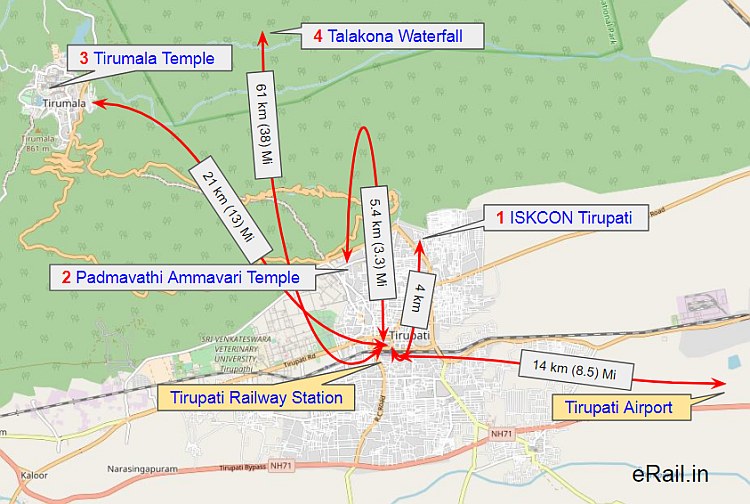 Best Place to Visit Near Tirupati Railway Station
ISKCON Tirupati : 3.4 km from Tirupati Rly Station
Sri Padmavathi Ammavari Temple : 5.4 km from Tirupati Rly Station
Tirumala Temple : 22.3 km from Tirupati Rly Station
Talakona Waterfall : 61 km from Tirupati Rly Station
Govindarajaswami Temple : 0.4 km from Tirupati Rly Station
Tirupati Railway Station to Tirumala Temple
Tirumala does not have its own railway station. The nearest railway station is in Tirupati, which is about 26 km from Tirumala. Tirupati railway station is a major railway station and is well equipped with five platforms and an escalator. It is well connected to major cities across India.
Many devotees climb the hills to Tirumala on foot to fulfil a vow. There are two well-laid stone footpaths leading to Tirumala. These paths are called sopanamargas. The most ancient of the two sopanamargas starts from Alipiri at the foot of the hills. This footpath is 11 km in length and is the commonly used route. The other sopanamarga (Srivari mettu) starts from Chandragiri and is only about 6 km in length.
Special Entry Darshan - The cost of the Ticket is Rs.300/- per pilgrim with two Laddus free of cost and booking is open round the clock.
Pilgrims can book Special Entry Darshan tickets for the current day 3 hours prior to Darshan Slot subject to availability of Quota. Pilgrims can make eHundi Offering while booking Darshan tickets.
Pilgrims can avail the Advance Booking of Special Entry Darshan through Internet Booking, e-Darshan Counters and Indian Post Offices.
| | |
| --- | --- |
| Platforms | 05 |
| Parking | Yes |
| WiFi | Yes |
| Public Transport | Yes |
| Retiring/ Dormitory Rooms | No, (How to book) |
| Cloak Room | Yes |
| Restaurants | Yes |
Tirupati International Airport is a public International airport located at Renigunta, a suburb of Tirupati in the state of Andhra Pradesh, India. The airport is located 14 km away from Tirupati and 39 km from Venkateswara Temple, Tirumala.
Distance between Tirupati Railway Station and Tirupati Airport is 20 kms or 12.4 miles. It takes 24 minutes to travel from Tirupati Railway Station to Tirupati Airport.
Distance between Tirupati Bus Stand and Tirupati Railway Station is 3 kms or 1.9 miles. It takes 3 minutes to travel from Tirupati Bus Stand to Tirupati Railway Station.
Auto rickshaw stand at the entrance of the station. Entrance of the station the passengers are provided with a taxi stand for the city taxis and private taxi cabs.
Hotels Near Tirupati Railway Station
Fortune Select Grand Ridge : 3.8 km from Tirupati Rly Station
Marasa Sarovar Premiere : 5.1 km from Tirupati Rly Station
Minerva Grand : 2 km from Tirupati Rly Station
Ramee Guestline : 4 km from Tirupati Rly Station
Fortune Kences : 1 km from Tirupati Rly Station