Jhansi Junction Railway Station (JHS)
झाँसी जंक्शन रेलवे स्टेशन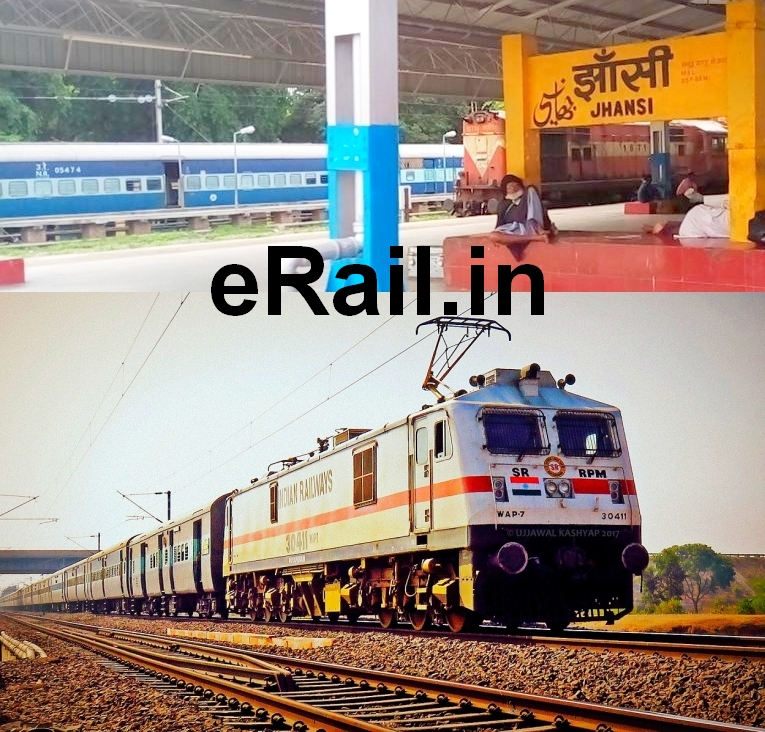 Jhansi Junction Railway Station (station code: JHS) is a major railway junction in the city of Jhansi in Bundelkhand region of Uttar Pradesh. It is one of the busiest and largest railway stations in India. It is a major intercity hub and a technical stoppage for many superfast trains in India. Jhansi has its own division in the North Central Railway zone of Indian Railways. It lies on the main Delhi-Chennai and Delhi-Mumbai line. The station code is JHS. The Station Director is Girish Kanchan. Vivaan Solar, a Gwalior based company has won contract to install a total of 1.5 MW rooftop solar power project at the wagon repair workshop of Jhansi Junction railway station. The company will install rooftop solar panels on production sheds and service buildings of the complex.
The railway station was built by the British in the late 1880s. After a long survey of three places the current site was selected for the station. The station has a massive fort-like building painted in maroon and off white.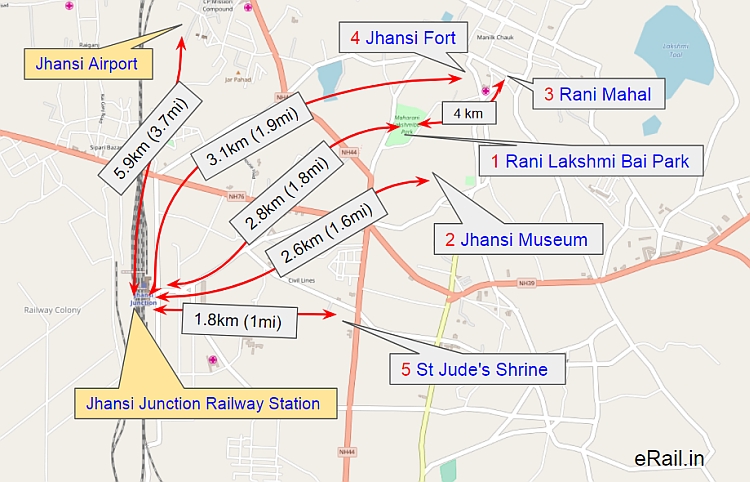 Best Place to Visit Near Jhansi Railway Station
Rani Lakshmi Bai Park 2.8 km From Jhansi Rly Station
Rani Jhansi Museum 2.6 km From Jhansi Rly Station
Rani Mahal 3.7 km From Jhansi Rly Station
Jhansi Fort 3.1 km From Jhansi Rly Station
St Jude's Shrine 1.8 km From Jhansi Rly Station
| | |
| --- | --- |
| Platforms | 07 |
| Parking | Yes |
| WiFi | Yes |
| Public Transport | Yes |
| Retiring/ Dormitory Rooms | Click here, (How to book) |
| Cloak Room | Yes |
| Restaurant | Yes |
Distance between Jhansi Junction Railway Station and Bus Stand is 4.9 kms or 3 miles It takes 13 minutes to travel from Jhansi Junction Railway Station to Jhansi bus stand
Taxi and Autorickshaws are available to Anywhere from outside of Jhansi Junction Railway Station
Distance between Jhansi Junction Railway Station and Airport is 5.9 kms or 3.7 miles It takes 12 minutes to travel from Jhansi Junction Railway Station to Jhansi Airport
Hotels Near Jhansi Railway Station
| | |
| --- | --- |
| Jhansi Hotel | 2.7 km |
| Hotel Sheela Shree Plaza | 7.0 km |
| Hotel Shrinath Palace | 1.2 km |
| Hotel Yatrik Jhansi | 2.3 km |
| Hotel Bundelkhand Pride | 2.8 km |