Mathura Junction Railway Station (MTJ)
मथुरा रेलवे स्टेशन

Mathura Junction railway station is on the Agra-Delhi chord of Delhi-Mumbai and Delhi-Chennai lines. Station Code Is (MTJ) It is located in Mathura district in the Indian state of Uttar Pradesh. It serves Mathura and Vrindavan.
The 29 mi (47 km) long Hathras Road-Mathura Cantt line was opened in 1875 by Bombay, Baroda and Central India Railway. It was transferred to North Eastern Railway in 1952. The Mathura-Kasganj line was converted from 1,000 mm (3 ft 3 3⁄8 in) wide metre gauge to 1,676 mm (5 ft 6 in) wide broad gauge in 2009.
Mathura Junction Railway Station Address : Mayur Vihar, Mathura, Uttar Pradesh 281001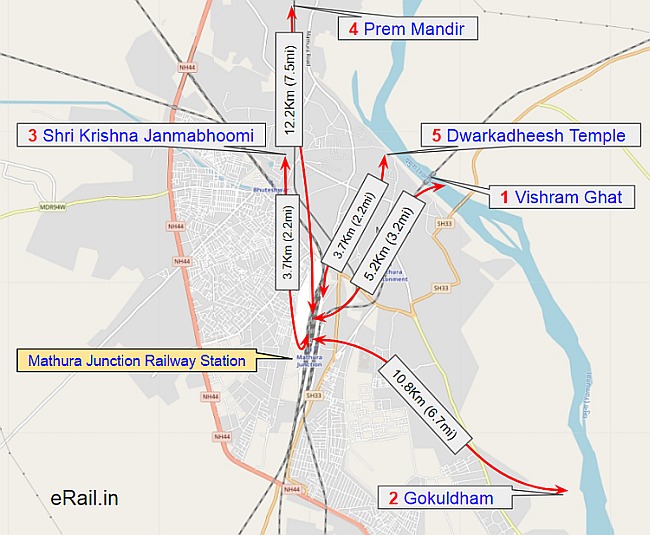 Best Place to Visit Near Mathura Railway Station
Vishram Ghat : 5.2 km from Mathura Rly Station
Gokul Dham : 10.8 km from Mathura Rly Station
Shri Krishna Janmabhoomi : 3.7 km from Mathura Rly Station
Prem Mandir : 12.2 km from Mathura Rly Station
Dwarikadheesh Temple : 3.7 km from Mathura Rly Station
Mathura Junction Railway Station to Vrindavan
Vrindavan has an ancient past, associated with Hindu mythology and history, and is an important Hindu pilgrimage site since long.
Of the contemporary times, Vallabhacharya, aged eleven visited Vrindavan. Later on, he performed three pilgrimages of India, barefoot giving discourses on Bhagavad Gita at 84 places. These 84 places are known as Chaurāsi Baithak and since then are the places of pilgrimage. Yet, he stayed in Vrindavan for four months each year.
| | |
| --- | --- |
| Platforms | 9 |
| Parking | Yes |
| WiFi | Yes |
| Public Transport | Yes |
| Retiring/ Dormitory Rooms | Click Here, (How to book) |
| Cloak Room | Yes |
| Restaurants | Yes |
Distance between Mathura Junction Railway and near agra Airport 1 h 42 min or 65.1 km.
Distance between Mathura Junction Railway Station and Mathura Bus Stand is 3 kms or 1.9 miles.
Distance between Vrindavan to Mathura is 12 km by Road along with an aerial distance of 10 km.
Hotels Near Mathura Railway Station
Hotel Brijwasi Royal : 2.2 km from Sri Krishna Janmabhoomi from Mathura Rly Station
Nidhivan Sarovar Portico-Vrindavan : 4.9 km from Bankey Bihari Temple from Mathura Rly Station
Clarks Inn Mathura : 2.8 km from Sri Krishna Janmabhoomi from Mathura Rly Station
Hotel Spiti : 3.1 km from Sri Krishna Janmabhoomi from Mathura Rly Station
The Royal Bharti : 2.2 km from Vrindavan-Chandra Mandir from Mathura Rly Station
Suggested Itinerary Delhi to Mathura
Travel from Delhi to Mathura 161 kms or 100.1 miles to 2 hours, 31 minutes Journey.
Day 1: Best Trains From Delhi to Mathura
Tatkal booking for 3AC/CC opens at 10AM and for SL opens at 11AM
Mathura is connected to all the major cities by National Highways.Some of the major road distances are: Gokul-10km, Vrindavan-15km, Govardhan-26km, Barsana-47km,
Stay in hotel
Hotel Brijwasi Royal
ISKCON Guest House
Sight Seeing
Kesava Deo Temple
Vishram Ghat
Shri Krishna Janmabhoomi
Gita Temple
Fare
Vishram Ghat = ₹ 150/- and Two People ₹300/-
Food Guide : Mathura Peda, is a Famous & Sweet dish - you can purchase from famous sweet shops of Mathura.
Day 2: Vrindavan Sight Seeing
Distance between Mathura to Vrindavan It's only around 15.4 kilometers (9.6 miles) It takes 28 minutes to travel from Mathura to Vrindavan in Uttar Pradesh,
Sight Seeing
Govind Dev Temple
Madan Mohan Temple
Nidhivan Temple
Radha Ballabh Temple
Rangaji Temple
Govardhan Temple
Prem Mandir
Local Transport : Tempos, shared autos and buses all that ply Station and Mathura to Vrindaven Rds Charge ₹ 15/- for the 13Km Mathura and Virndavan.
The temples here are sread out, so a cycle - rickshaw tour is a good way to see them. Expect to pay ₹ 200/- to ₹ 250/- for a half-day tour (₹ 350/- to ₹ 400 in a autorickshaw).
Vrindavan Food Guide : Shri Govinda Restaurant Does Indian Veg dishes, pasta, cakes, shakes, salads and soups. Located inside Krishna Balaram Temple Complex.
Holi Vrindaven Colourful Festival : Perhaps the world's most colourful festival - you've probably seen pictures of people covered in all shades of fluorescent powder this nationwide party celebrates tha arrival of spring and the triumph of good over evil. The action is particularly intense around Mathura and Virndavan, the birth place and spiritual home of Krishna.
Barsana Holi : Barsana located at a distance of about 42 km from Mathura is well known for its distinctive manner of celebrating Holi. Barsana, the birth place of Radha, Lord Krishna's beloved attracts a large number of visitors each year when it celebrates Holi.
Tatkal booking for 3AC/CC opens at 10AM and for SL opens at 11AM