Vijayawada Junction Railway Station (BZA)
विजयवाडा जंक्शन रेलवे स्टेशन
Vijayawada Railway Station is an Indian railway station in Vijayawada of Andhra Pradesh. Vijayawada Railway Station station code is BZA. It is classified as one of the A-1 and Model station in the Vijayawada railway division of South Central Railway zone. It is the second busiest railway junction in the country, situated at the junction of Howrah-Chennai and New Delhi–Chennai main lines. The station everyday serves about 1.40 lakh passengers, over 250 express and 150 freight trains.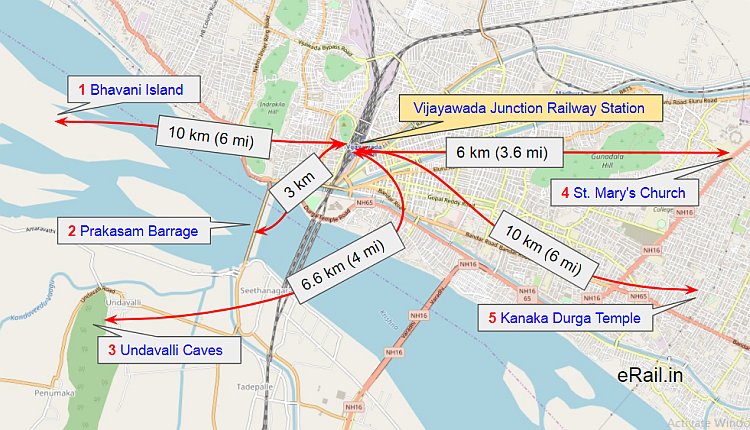 Best Place to Visit Near Vijaywada Railway Station
Bhavani Island : 9.6 km from Vijaywada Rly Station
Prakasam Barrage : 2.9 km from Vijaywada Rly Station
Undavalli Caves : 6.6 km from Vijaywada Rly Station
St. Mary's Church : 5.9 km from Vijaywada Rly Station
Kanaka Durga Temple : 9.5 km from Vijaywada Rly Station
| | |
| --- | --- |
| Platforms | 10 |
| Parking | Yes |
| WiFi | Yes |
| Public Transport | Yes |
| Retiring/ Dormitory Rooms | Click here, (How to book) |
| Cloak Room | Yes |
| Restaurants | Yes |
Distance between Gannavaram Airport and Vijayawada Railway Station is 21 kms or 13 miles.
It takes 25 minutes to travel from Gannavaram Airport to Vijayawada Railway Station.
Distance between Railway Station and Vijayawada Bus Stand is 1.2 kms or 0.7 miles. It takes 2 minutes to travel from Vijayawada Junction Railway Station to Vijayawada Bus Station.
Auto rickshaw stand at the entrance of the station. Entrance of the station the passengers are provided with a taxi stand for the city taxis and private taxi cabs.
Location: Railway Station Road, Hanumanpet, Vijayawada, Andhra Pradesh
Hotels Near Vijaywada Railway Station
The Gateway Hotel : 3.7 km from Vijaywada Rly Station
Quality Hotel D V Manor : 5.2 km from Vijaywada Rly Station
Fortune Murali Park : 5.3 km from Vijaywada Rly Station
Hotel Minerva Grand : 4.0 km from Vijaywada Rly Station
Marg Krishnaaya Hotel : 5.8 km from Vijaywada Rly Station